Alan's Bio
Click
here
for a personal message from Alan
Born Alan James-Carr and raised in Dublin, Ireland,  Alan was a major player in the Irish showband scene for many years. These bands traveled the length and breadth of Ireland, the UK and Europe including London, Birmingham, Manchester, Liverpool, Paris, Frankfurt, and Madrid, The Canary Islands and many other place.
Alan first played B-flat cornet with the Blanchardstown Brass  Band in the early 1960's.
The  Blanchardstown Brass and Reed Band 1961.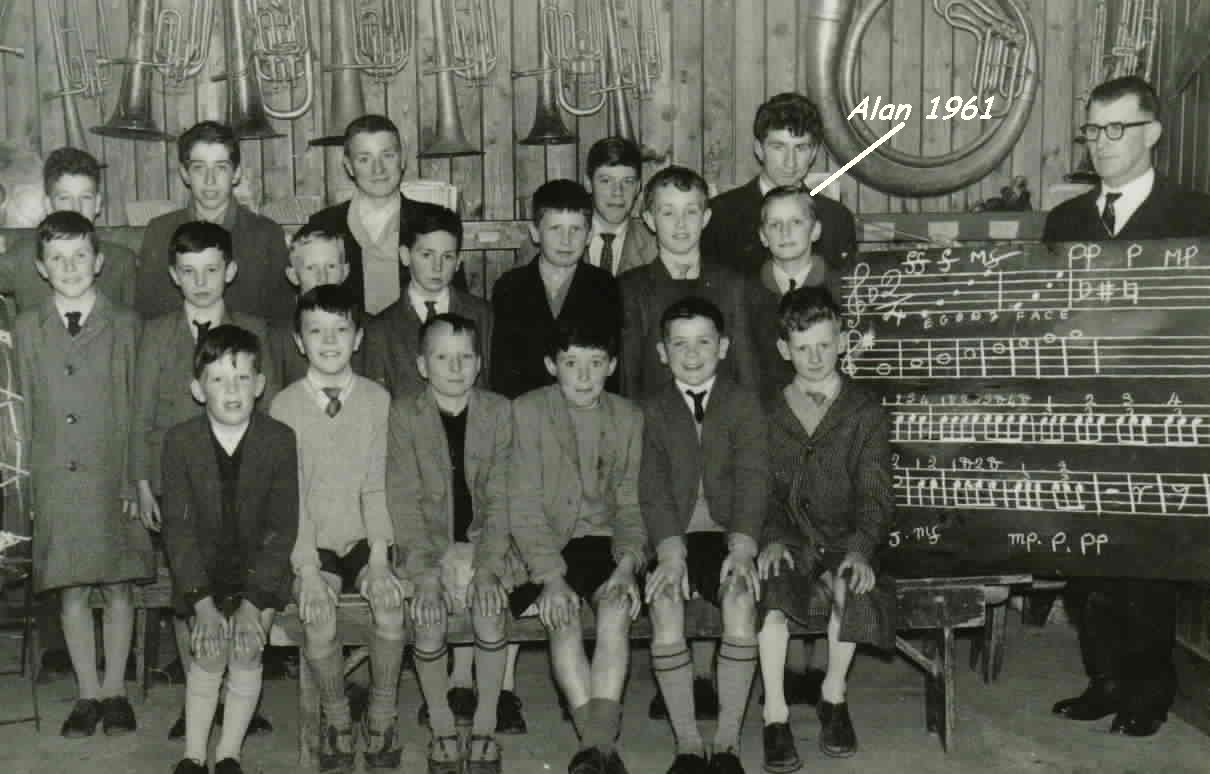 Bandleader  Mr. Tommy Smith, suggested to Alan's parents that he would be better served attending The Royal School of Music in Dublin. Alan studied music theory, trumpet and vocals for many years there. Somewhere along the way, between the School of Music, the Beatles and the Rolling Stones, Alan picked up the guitar and piano and started experimenting with a  wider range of music. Alan tells us his older sister Aileen showed him his first chord on the guitar, little did she know where that would take him.
At the ripe old age of fourteen he got his first taste of "rock n' roll" when he abandoned the trumpet(temporarily) and took up the guitar and put his first band together, The Silver Clouds with three of his friends, Leslie Norris on drums (Leslie sadly passed away Feb. 15, 2006 in the South of Spain),  Bernard Fagan on guitar/vocals and Shay Martin on the bass guitar.
The Silver Clouds 1965 - 1968


.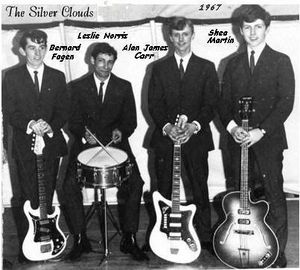 After a taste of life on the stage, Alan was hooked. He went to see some of the leading showbands of the day and recalls saying " some day I will do that",  what an under statement that was. So while going to school, learning a trade, racing ten speed bikes, motor cycles, cars and playing gigs with his group, he did manage to find time to practice his music and hone his craft.

By the late 1960's Alan joined with several well known national showbands, including
Alan's first Showband(Longfdord) 1968-1969.
e Sahara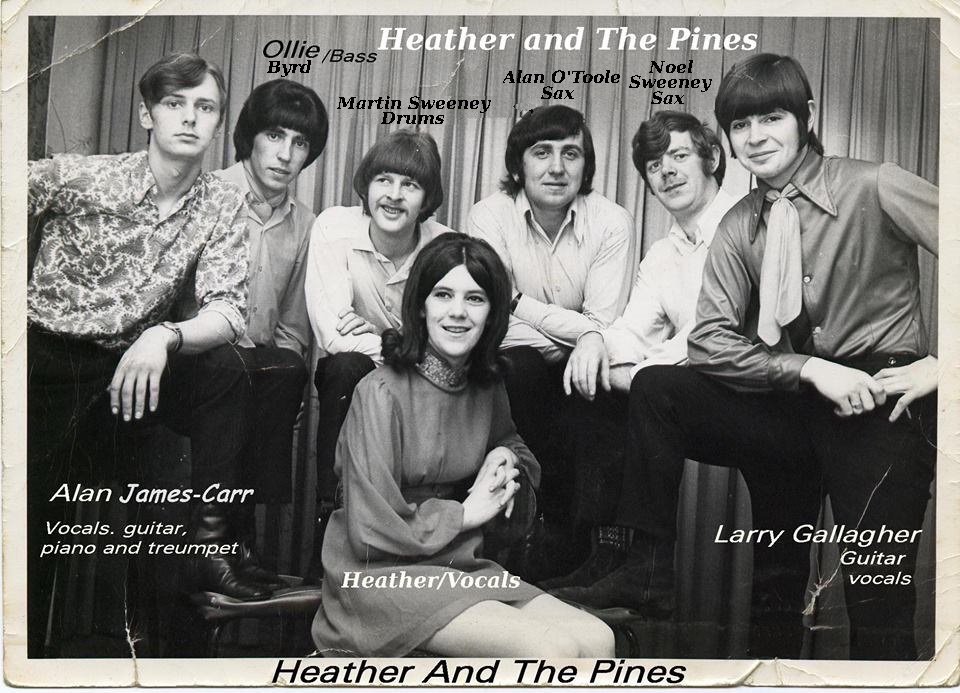 The Sahara Showband
(Longford)
 1969-1970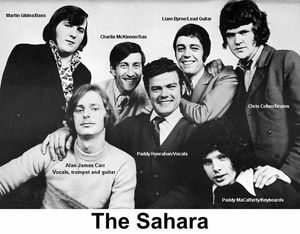 The Victors
(Cork/Dublin)
1970 - early 1973.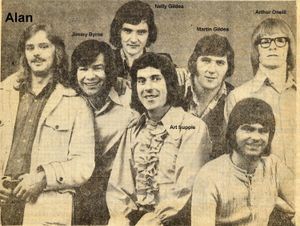 Art Supple
and The Victors
toured throughout Ireland, England and Germany. In 1973 Alan would finally join forces with one of the country's most popular lineups, Brendan O'Brien, Joe Mac
and Stage 2. 
Stage 2
1973 to 1977
.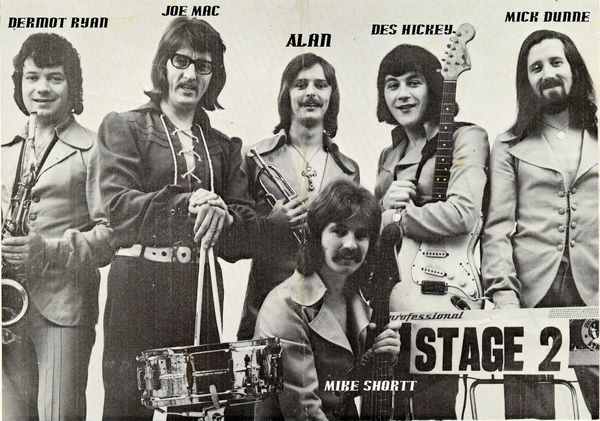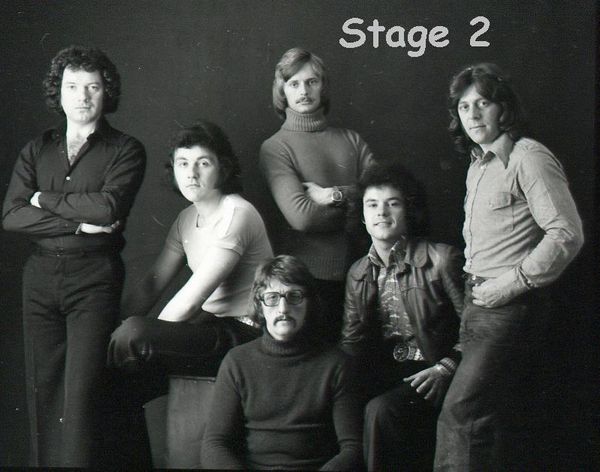 Because of its heritage, Stage 2 is a band that holds a special place in the annals of Irish showband history, and Alan played an important role in Stage 2's popularity. The band originated from members of one of Ireland's most famous showbands, The Dixies, who enjoyed years of success with a string of hits in the  60's, sung by Brendan O'Brien(Brendan sadly pasesed away from a heart attack at his home in Cork city in 2008). O'Brien and drummer/comedian Joe McCarthy headed out on their own, forming the split from The Dixies and aptly naming it Stage 2, the second part of thier musical journey. The members of the band were, Brendan O'Brien (vocals), Joe McCarthy (drums/vocals), Des Hickey (lead guitar/vocals), Pat Fortune(bass/vocals), Ray Cliffgord (keyboards/Sax), Dermot Ryan (saxes/flute/vocals) and of course Alan on vocals and trumpet.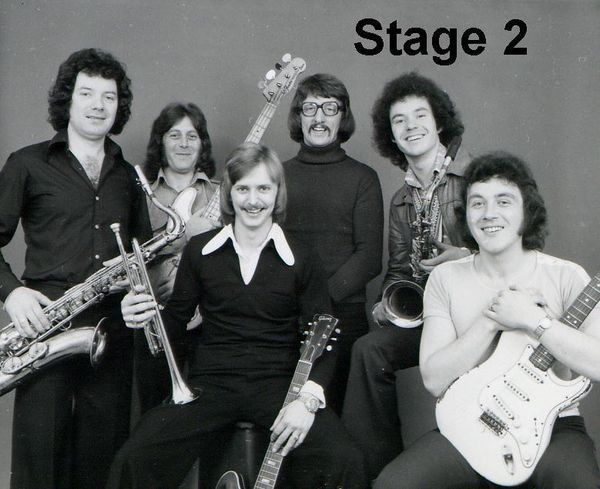 Originally, Stage 2 leaned towards a heavy brass sound in the genre of Chicago, Blood Sweat and Tears and 10CC, but they found it was not the best dance music for the ballrooms at the time, so they switched back to the Top 40 of the day , a mix of pop and rock n' roll. This got the dancers back on the floor and the band played to thousands every night for many years after that and became one of the top five lineups in the country. They had a major hit with "Beautiful Sunday" sung by Brendan O'Brien. In 1973.  Alan stepped up front as lead vocalist in 1974 and in 1975 they released
"You've Grown Up"
written by Mr. Sean Sharkey of Dublin's Television Club fame, which had great success on the charts and kept the fans flocking to the ballrooms in their thousands.
The band toured throughout Ireland, England and Scotland, they had a huge following and played to packed houses every night. The bumper stickers which were handed out after their dances read "All the Worlds a Stage 2" and another which read "Come Dancing with Stage 2", you would see them on thousands of vehicles all over the country. This band left an indelible mark on the Irish showband scene
.

To hear Alan back in the '70s go to the player below

. 

The End of

The Showband Era: Yes it came to pass, the days of "Send Them Home Sweatin" (a good book if you ever come across it) were on the decline. What with hotels and pubs getting their closing time extended and their licenses changed to "cabaret" it became increasingly more difficult to fill the huge alcohol free ballrooms and maintain the larger six-plus piece showbands.  In 1976 Alan left for Canada, a very hard decision for a well established musician, the band split not long after and all went their separate ways, but oh what a time they had and will never forget.  

So began a new adventure for Alan on the music scene in North America.
Arriving in Canada in 1977, Alan very quickly established himself throughout the music industry in Vancouver where he became the lead vocalist with his new house band  "Tara" at one of the busiest night clubs in Vancouver(it still is to this day)  "The Blarney Stone" in Gastown.Tara 1977 - 1979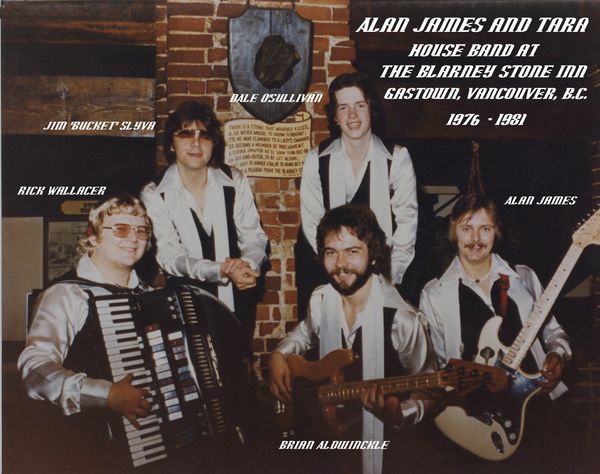 Line-up cahnge for Tara 1980-1981
In 1987 as his Canadian experience grew, he contracted with companies such as The Cloudio Group in Alberta and the Coast Hotels and Resorts throughout BC creating one of the most successful single entertainer circuits(piano bars)in North America for a period of approximately 12 years.
For the past fourteen years now Alan has called Red Deer, Alberta home, where he enjoys the people and the pace of life.  
Alan managed country singer/songwriter Kym Simon. They achieved a lot in a couple of short years, Alan was successful in having Kym perform at The Canadian Country Music Awards in 2008, something Kym had dremed about  since she was a young girl. Alan entered Kym's songs into many world wide songwriting writing contest with great success, the highest honor of which was winning the 2008 Nashville Music City Songwriters Award with her song "Easy Way Out". To see the video taping the song for The Great American Country T. V. Show in Nashville click 
here
(

background music will stop, you can restart this at any time with the player in the left bottom of page

). 
The Kym Simon Band 2007 - 2010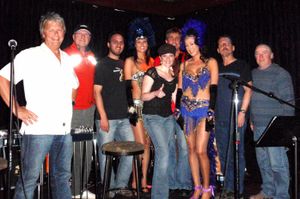 Alan put a wonderful power-house band of very fine musicians around Kym for her live gigs for two years and they sounded fantastic, she made him very proud. Kym has taken time away from music to spend time with her family.  Alan tells us that Kym is a very talented singer/songwriter and that it was a pleasure working with her and he wishes her every success in the future.         
      
            
 Alan is cutting back on live shows theses days and loves to spend time in his home studio. These days Alan spends more time in the family real estate business.